Prudential RideLondon-Surrey 100 – 3 Nights 4 Days Package
Book Now
Guaranteed Entry for the Prudential RideLondon-Surrey 100
  The route replicates much of the 2012 Olympics Road Race course.
 London, United Kingdom.
 July 29 to August 1, 2016
RACE INFO
Celebrating the legacy for cycling created by the London 2012 Olympic and Paralympic Games, Prudential RideLondon-Surrey 100 starts in Queen Elizabeth Olympic Park, then follows a 100-mile route on closed roads through the capital and into Surrey's stunning countryside. Prudential RideLondon-Surrey 100 finishes on The Mall in central London, shortly before 150 professional cyclists race in the Prudential RideLondon-Surrey Classic on a similar route.
 Prudential RideLondon-Surrey 100 forms part of the larger Prudential RideLondon weekend, which also includes:
Prudential RideLondon FreeCycle

 up to 70,000 cyclists of all ages and abilities will ride freely (and non-competitively) around an iconic 8 mile circuit in Central London.

Prudential RideLondon Grand Prix 

around a 1.3 mile circuit in Central London for Elite Women, Juniors and hand cyclists from around the world.

Prudential RideLondon-Surrey Classic

road race
ITINERARY
Friday July 29 Arrive at London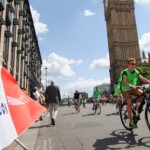 Arrange your own transport to London and please make your way to the Melia White House hotel. On arrival you will be able to put your bike into the special bike room at the hotel. Our mechanic is on hand today to assist you with assembling your bike if you have travelled with your bike in a bike box or bag.
After you have checked in, you will have the opportunity to have a wander out of the hotel and enjoy an evening out in London.
Saturday July 30 London Free Day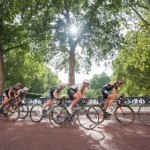 The day of the Prudential RideLondon Grand Prix series and the RideLondon Freewheel event.
Today is a free day to build your bike and register for the event. We are on hand to assist you. It is a good opportunity to explore the local area and prepare for tomorrow's event. If you want you can join the RideLondon Freewheel event today which is a free event with an expected 70,000 participants. Please note that this event is free but you have to pre-register online on the Prudential RideLondon website.
Taking place in the evening, the Grand Prix series will take place on closed roads in and around St James's Park. The event is invitation only with riders competing on a 1.3 mile loop around the finish area of the Prudential RideLondon-Surrey 100 and Classic events.
From our hotel you will be able to walk over to watch some of the action. St James's Park is a couple of miles walk away from the hotel.
Sunday July 31 London Race Day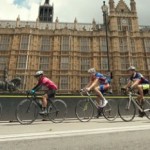 For those competing in the The Prudential RideLondon-Surrey 100, you will ride to the start from the hotel and be given a waved start somewhere between 06:00 and 08:30. Our bike guide will ride with you to the start at the earliest time.
The ride will pass through nine London boroughs and the county of Surrey, before returning to Central London for a finish on The Mall.
Later in the afternoon there will also be a Pro cycling event. The Prudental RideLondon-Surrey Classic is the UCI event for 150 of the world's best cyclists. The route of the Prudential RideLondon-Surrey Classic is a variation on the London 2012 Olympic Road Race route. It will follow the same route as the Prudential RideLondon-Surrey 100 course and feature a route extension (in Surrey) to meet UCI pro race requirements.
You will be able to watch the finish of the Pro Race on the Mall this afternoon after you have finished yourself and got changed at the hotel.
Monday August 1

After breakfast please check out of the hotel. Prudential RideLondon-Surrey 100 Package ends.
HOTELS
London
 Melia White House
2099 Yan'an West Road, Changning District  Shanghai,  China. 200336
+86-21-62750000
The Melia White House Hotel was built in 1936 and was originally launched as The White House luxury apartments. The hotel's building still preserves its architectural value as a prime example of late 1930s architecture. An eclectic style where contemporary design meets classic.
After a recent refurbishment, guests can now have a more pleasant and unique experience when staying in London. This 4-star deluxe hotel has 581 rooms, 112 apartments, 9 meeting rooms, 2 restaurants and a bar with a terrace; a fitness centre and an executive lounge.
The hotel's unique location, award- winning food offering and true passion for service will make your stay in London a pleasant and unique experience.
See how people like this hotel on TripAdvisor





PRICE DETAILS
Book Now
What is included
Hotel accommodation on a bed and breakfast basis. Single room surcharge $360
Guaranteed entry to the 2016 Prudential RideLondon-Surrey 100 event
Services and support of Sports Tours International staff including our guide who will ride with you to the start
Bike storage at the hotel
What is not included
airfare
Meals and hotel extras other than described above
Enquiry
[contact-form-7 404 "Not Found"]