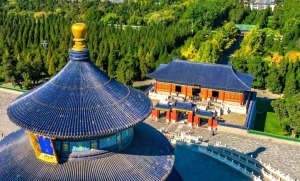 The Temple of Heaven was the place where the Emperors of the Ming (1368-1644) and Qing (1644-1911) would worship God of Heaven and pray for prosperity for the whole nation. Now it is Temple of Heaven Park, a nice public park for both travelers and local people.
The Temple of Heaven, founded in 1420, is a dignified complex of fine buildings. In its overall layout and that of its individual buildings, it symbolizes the relationship between earth and heaven – the human world and God's world – which stands at the heart of Chinese cosmogony, and also the special role played by the emperors within that relationship.
The temple consists of 3 major parts: Hall of Prayer for Good Harvests, Imperial Vault of Heaven, and Circular Mound Altar, surrounded by historic pine woods, covering a space of 273 hectares in total. In 1998, it was recognized by the UNESCO as "Heritage of the World", for 3 criterions:
Criterion i: The Temple of Heaven is a masterpiece of architecture and landscape design which simply and graphically illustrates a cosmogony of great importance for the evolution of one of the world's great civilizations.
Criterion ii: The symbolic layout and design of the Temple of Heaven had a profound influence on architecture and planning in the Far East over many centuries.
Criterion iii: For more than two thousand years China was ruled by a series of feudal dynasties, the legitimacy of which is symbolized by the design and layout of the Temple of Heaven.
Apart from seeing some masterpieces of Chinese architectures, visitors can also enjoy watching local people doing exercises here. Everyday there are people playing Taichi, dancing, singing, playing cards, etc, a very relaxing and joyful atmosphere. It is a very good chance to get into the locals.