The construction of the Summer Palace first started in the Qing Dynasty during the Emperor Qianlong. With supreme power and large sums of money, skillful and ingenious artisans from all over the country to
carry out this construction work in honor of his mother's birthday. After 15 years and one seventh of the nation's annual revenue spent, it was completed and named by the emperor as the Garden of Clear Ripples. It served as a testimony to China's scientific and technological achievements.
In 1860, this vast royal garden was burnt down along with the Old Summer Palace (Garden of Perfection and Brightness) by Anglo-French allied forces. In 1888, Empress Dowager Cixi reconstructed the garden on the same site and renamed it the Garden of Nurtured Harmony (Summer Palace). Characterized by its vast scope and rich cultural embodiments, the Summer Palace has become one of the most famous tourist sites in the world.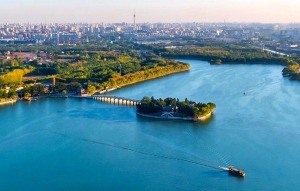 The Summer Palace landscape, dominated mainly by Longevity Hill and Kunming Lake, covers an area of 2.9 square kilometers, three quarters of which is under water. Its 70,000 square meters of building space features a variety of palaces, gardens and other ancient-style architectural structures. Well known for its large and priceless collection of cultural relics, it was among the first group of historical and cultural heritage sites in China to be placed under special state protection.
The Summer Palace is a monument to classical Chinese architecture, in terms of both garden design and construction. Borrowing scenes from surrounding landscapes, it radiates not only the grandeur of an imperial garden but also the beauty of nature in a seamless combination that best illustrates the guiding principle of traditional Chinese garden design: "The works of men should match the works of Heaven".
In December 1998, UNESCO included the Summer Palace on its World Heritage List with the following comments:
The Summer Palace in Beijing is an outstanding expression of the creative art of Chinese landscape garden design, incorporating the works of humankind and nature in a harmonious whole;
The Summer Palace epitomizes the philosophy and practice of Chinese garden design, which played a key role in the development of this cultural form throughout the east;
The imperial Chinese garden, illustrated by the Summer Palace, is a potent symbol of one of the major world civilizations.