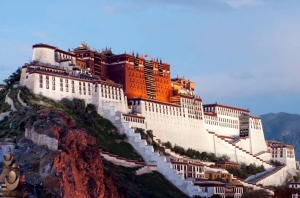 Lhasa means "sacred land" in Tibetan, and Potala Palace, the architectural wonder in the center of Lhasa, is the symbol of this sacred land. When the thirty-third King of Tibet, Soongtsan Gampo, was married to Princess Wen Cheng of Tang Dynasty in 641 , he had 999 houses built on Hongshan Hill for his bride.
The Buddhists later named it Potala Palace, meaning the sacred land of Buddhism. Potala Palace was constructed on the hill site. Surrounded by a wall three meters high, the thirteen-story palace is 110 meters tall, supported by over ten thousand pillars, with a construction area of 130,000 square meters. In the restored palace we see today, the white buildings on either side, called the White Palace, were built three hundred years ago by the fifth Dalai Lama as living quarters. The central building, called the Red Palace, was built by the disciple of the fifth Dalai Lama and contains mourning halls and libraries.
The Potala Palace was inscribed to the UNESCO World Heritage List in 1994. In 2000 and 2001, Jokhang Temple and Norbulingka were added to the list as extensions to the sites.
The number of visitors to the palace was restricted to 1,600 a day, with opening hours reduced to six hours daily to avoid over-crowding from 1 May 2003. The palace was receiving an average of 1,500 a day prior to the introduction of the quota, sometimes peaking to over 5,000 in one day. Visits to the structure's roof was banned after restoration works were completed in 2006 to avoid further structural damage. Visitorship quotas were raised to 2,300 daily to accommodate a 30% increase in visitorship since the opening of the Qingzang railway into Lhasa on 1 July 2006, but the quota is often reached by mid-morning. Opening hours were extended during the peak period in the months of July to September, where over 6,000 visitors would descend on the site.