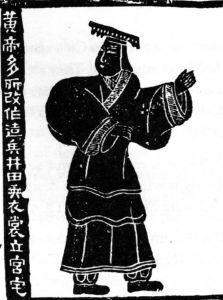 Xinzheng is the hometown of Xuanyuan – the Yellow Emperor of China. It is located 30 miles south of Zhengzhou, the capital of Henan province. Xinzheng was called Youxiong in the ancient times, and it is the birthplace of the Yellow Emperor,  as well as the capital where he established his kingdom. The birthday of the Yellow Emperor is March 3rd in Chinese lunar calendar, which generally falls into April in Western Calendar. There has been a tradition to hold grand worshiping ceremony on his birthday since Han Dynasty, more than 2000 years ago.
Read more about the Yellow Emperor…
The Scenic Area of  Yellow Emperor's Hometown is located on Xuanyuan Road, Xinzheng City. The Yellow Emperor Temple was built in the Han Dynasty, which was rebuilt in the Ming and Qing. In the year of 1570 Xuanyuan Bridge was built in front of the temple. During the fifty-fourth year of Qing Emperor Kangxi (1715), Xu Chao, the Governor of Xinzheng City,  set up a marble stele in front of the Temple carved with calligraphy written "The Hometown of Xuanyuan".
The current Scenic Area covers an area of 70,000 square meters or 750,000 square feet, which went through several refurbishment in 1990s. There are mainly 3 sections from north to south in the area, namely the Worshipping Area, the Temple Area, and the Square Area. In the Worshiping Area you can see the Xuanyuan Hill, the Yellow Emperor Memorial Hall, the Statue of the Yellow Emperor, the Holy Fire of Chinese Civilization, the Culture Long Corridor, and the Worshipping Square. The Temple Area is centered by the Yellow Emperor Temple, surrounded by Thousand-year-old date/jujube trees, Chinese Scholar trees, ginkgo trees, Xuanyuan Bridge, marble sundials, Compass Chariot, and Han Dynasty Watchtower. The Square Area features the Chinese Family Names Square, with more than 3000 Chinese Family names carved on the marble wall. You can also see 9 Bronze Ding, the ancient container, in the square which represents 9 merits of Chinese Culture, namely Love, Longevity, Wealth, Official Career, Peace, Prosperity, Wisdom, and Descendants. The whole scenic area is connected by a 40-feet-wide avenue paved with red granite, symbolizing the Chinese all over the world are connected with blood.
Falling leaves settle on their roots – what comes from the soil will return to the soil. The Scenic Area of  Yellow Emperor's Hometown is the place where Chinese people from nationwide as well as from overseas get together for commemoration as well for reunion as a family. Since April 1, 2006, the area is open to visitors free of charge, and every Saturday at 9:50 am and every Sunday at 3:50 pm, worshiping ceremony are held for visitors to experience the Yellow Emperor Culture and the root of 5000-year-old Chinese civilization.