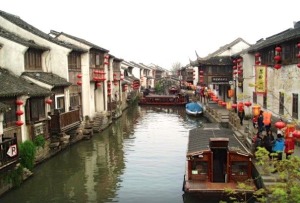 The Grand Canal (also known as the Beijing-Hangzhou Grand Canal), a UNESCO World Heritage Site, is the longest canal or artificial river in the world and a famous tourist destination. Starting at Beijing, it passes through Tianjin and the provinces of Hebei, Shandong, Jiangsu and Zhejiang to the city of Hangzhou, linking the Yellow River and Yangtze River. The oldest parts of the canal date back to the 5th century BC, although the various sections were finally combined during the Sui dynasty (581–618 AD).
The total length of the Grand Canal is 1,776 km (1,104 mi). Its greatest height is reached in the mountains of Shandong, at a summit of 42 m (138 ft). Ships in Chinese canals did not have trouble reaching higher elevations after the pound lock was invented in the 10th century, during the Song dynasty (960–1279), by the government official and engineer Qiao Weiyo. The canal has been admired by many throughout history including Japanese monk Ennin (794–864), Persian historian Rashid al-Din (1247–1318), Korean official Choe Bu (1454–1504), and Italian missionary Matteo Ricci (1552–1610).
The Grand Canal in Suzhou has been maintained very well and it is well connected with the local waterways. You can take a boat and travel along the canal to explore the local life in the old town of Suzhou. The red lanterns, wood houses, stone bridges, and local markets bring you back to the oriental life.